ISSN print edition: 0366-6352
ISSN electronic edition: 1336-9075
Registr. No.: MK SR 9/7

Published monthly
Gelatin–rosin gum complex nanoparticles: preparation, characterization and colon targeted delivery of 5-fluorouracil
Department of Chemistry, University of Allahabad, Allahabad, India
E-mail: singhvandanasingh@rediffmail.com
Received: 9 April 2020 Accepted: 26 May 2020
Abstract:
Abstract
Gelatin-rosin gum complex nanoparticles (GGRNPs) have been synthesized by complex coacervation method. The particles were extensively characterized using Fourier transform infrared spectroscopy (FTIR), X-ray diffraction (XRD), field emission scanning electron microscopy (FESEM), and particle size analysis based on dynamic light scattering (DLS). The GGRNP3 were stable and their average particle size was  ~ 153 nm. GGRNPs were evaluated as the carrier matrix for 5-fluoro uracil (5-FU), and the release behavior of 5-FU was examined by swelling and in vitro dissolution tests in simulated gastrointestinal fluid (SGF) for first 2 h followed by 14 h in simulated intestinal fluid (SIF). About 71% drug release was witnessed (SGF = 21%; SIF = 50%) over a time span of 16 h, in contrast to native gelatin or rosin gum where under identical conditions the release exhausted within 7 h and 10 h, respectively. The release profile followed the first-order kinetics and the diffusion exponent (n) values obtained from the Korsemeyer−Peppas model ranged between 0.5 < n < 0.8 (both in SGF and SIF), which indicated non-Fickian diffusion mechanism. A549 cell line was used to carry out MTT assay test for investigating the cell toxicity of the drug-loaded GGRNP3 (D GGRNP3) where DGGRNP3 exhibited greater toxicity as compared to GGRNP3.
Graphic abstract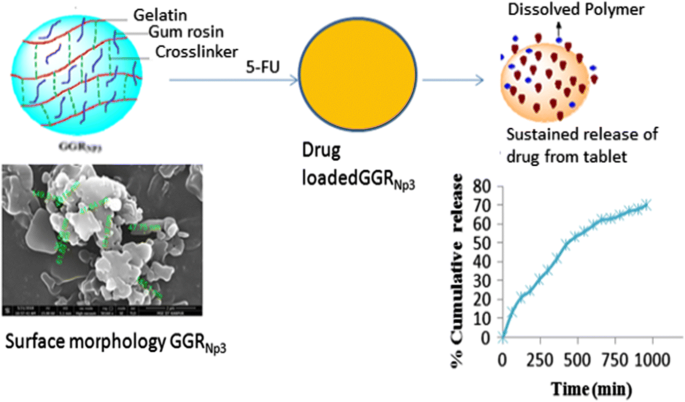 Keywords: Gelatin; Rosin gum; Glutaraldehyde; 5-Fluoro uracil; Drug delivery
Full paper is available at www.springerlink.com.
DOI: 10.1007/s11696-020-01231-0
Chemical Papers 74 (12) 4241–4252 (2020)