ISSN print edition: 0366-6352
ISSN electronic edition: 1336-9075
Registr. No.: MK SR 9/7

Published monthly
Conversion of isobutane to n-butane over bifunctional PtAu-solid superacids catalyst
Shan Song, Ming Sun, Minglun Cao, Jidong Liu, and Jianhua Lv
School of Chemical Engineering and Technology, Hebei University of Technology, Tianjin, People's Republic of China
E-mail: ctstljh@hebut.edu.cn
Received: 9 February 2020 Accepted: 23 May 2020
Abstract:
Abstract
A platinum-substituted alumina-promoted sulfated zirconia (PtAu/SZA) was prepared and used for the conversion of isobutane to n-butane, aiming to optimize the ethylene feedstock in the steam thermal cracking process and increase the ethylene yield. PtAu bimetallic catalysts showed higher catalytic activity than Pt-alone catalyst, and the enhancement is attributed to PtAu alloying. By diluting and separating Pt with PtAu alloy agglomerates, continuous Pt agglomerates disappear and hydrogen dissociation on Pt is enhanced. In addition, the reduction temperature of Pt is decreased with the increase in Au content, while the reduction temperature of sulfate was increased which will delay the loss of sulfate according to the results of H2-TPR and NH3-TPD. However, the acidity of the catalyst decreases with the increase in Au, which is due to that PtAu alloy covers the acid sites on the surface. Overall, we found that the Pt0.5Au0.3/SZA showed the highest yield to n-butane (34.69%).
Graphic abstract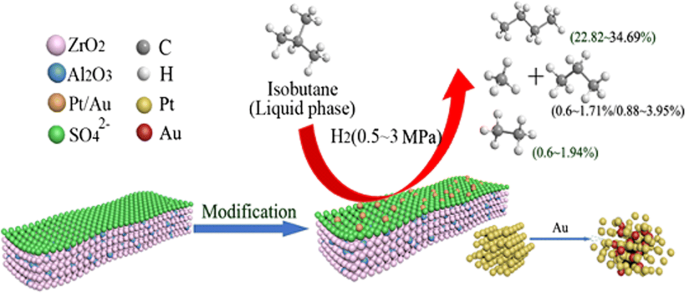 Keywords: N-butane; Isomerization; Bifunctional catalyst; PtAu alloy
Full paper is available at www.springerlink.com.
DOI: 10.1007/s11696-020-01225-y
Chemical Papers 74 (11) 4057–4066 (2020)