ISSN print edition: 0366-6352
ISSN electronic edition: 1336-9075
Registr. No.: MK SR 9/7

Published monthly
Synthesis and characterization of amino and cyano-functionalized zinc-terephthalate metal–organic frameworks for loading of piroxicam drug
A. C. Tella, S. E. Eliagwu, M. Amali, A. T. Kola-Mustapha, S. J. Olatunji, F. Ishola, V. O. Adimula, and O. S. Oluwafemi
Laboratory of Synthetic Inorganic and Materials Chemistry, Department of Chemistry, University of Ilorin, Ilorin, Nigeria
E-mail: ac_tella@yahoo.co.uk
Received: 14 July 2019 Accepted: 18 January 2020
Abstract:
Piroxicam is a member of the oxicam group known to be nonsteroidal anti-inflammatory drugs (NSAID) which are used in the treatment of pain and arthritis. To improve its effectiveness and lessen the occurrence of side effects, the need to develop drug carrier systems tuned towards improved loading capability and controlled release is imperative. We herein report the synthesis of the zinc-terephthalate metal–organic frameworks (MOFs) and its functionalization by incorporation of amino and cyano groups using ethylenediamine (en) and malononitrile (MN), respectively, for the delivery of piroxicam drug. The functionalized and unfunctionalized MOFs were characterized using elemental analysis, Fourier transforms infrared spectroscopy (FTIR), scanning electron microscopy (SEM), Brunauer–Emmett–Teller (BET) and Powder X-ray diffraction (PXRD). BET analysis showed that the zinc terephthalate, zinc terephthalate–en and zinc terephthalate–MN have a surface area and total pore volume of 3130 m2/g (1.437 cm3/g), 3069 m2/g (1.361 cm3/g) and 2975 m2/g (1.232 cm3/g), respectively. The amounts of drug (Piroxicam) loaded on zinc terephthalate and zinc terephthalate–en are 92.06 wt% and 95.23 wt%, respectively. This work reveals that the as-synthesized functionalized MOFs can serve as promising candidates for the delivery of the piroxicam drug and other nonsteroidal anti-inflammatory drugs.
Graphic Abstract: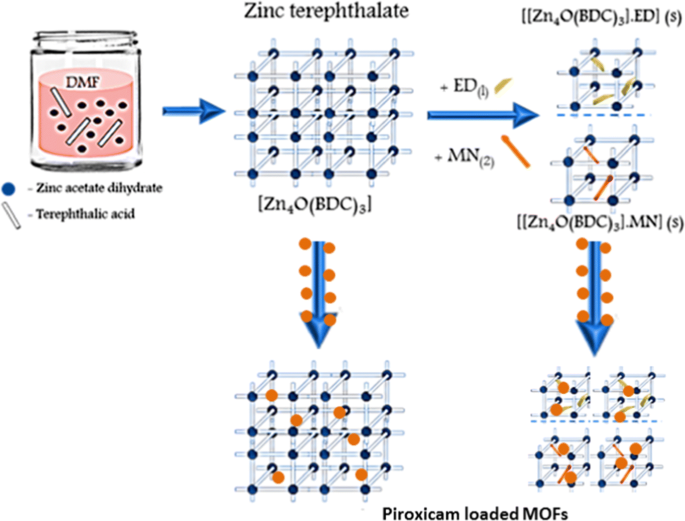 Keywords: Pharmaceutical; Functionalization; Metal–organic frameworks; Scanning electron microscopy
Full paper is available at www.springerlink.com.
DOI: 10.1007/s11696-020-01068-7
Chemical Papers 74 (7) 2287–2296 (2020)