ISSN print edition: 0366-6352
ISSN electronic edition: 1336-9075
Registr. No.: MK SR 9/7

Published monthly
A highly selective fluorescent probe for the detection of exogenous and endogenous hypochlorous acid/hypochlorite
Huiqin Wei, Meixia Tan, Yitong Lin, Houzheng Chen, Xinyao Wu, Zhiqiang Zhang, and Fang Ke
Fujian Medical University Union Hospital, Interventional Catheter Room, Fuzhou, China
E-mail: 1412018003@qq.com
Received: 14 September 2022 Accepted: 2 December 2022
Abstract:
Hypochlorous acid/hypochlorite (HOCl/OCl−) plays a crucial role in immune defense and other biological processes. A carbazole fluorescent probe, 9-ethyl-3-((2-(4-nitrophenyl)hydrazineylidene) methyl)-9H-carbazole (CZ-NH), was designed and synthesized for the detection of HOCl/OCl−. After OCl− was added, the fluorescence spectrum showed a strong absorption peak at 370 nm, and the fluorescence enhancement was nearly 500 times. The probe has strong selectivity for OCl−, low detection limit 2.709 μM, non-toxicity to cells, good permeability and can be used for fluorescence imaging of exogenous and endogenous OCl−, indicating that CZ-NH has potential biological application value. The probe CZ-NH was characterized by 1H NMR and 13C NMR. In addition, the recognition mechanism of OCl− was verified by mass spectrometry and density functional theory (DFT).
Graphical abstract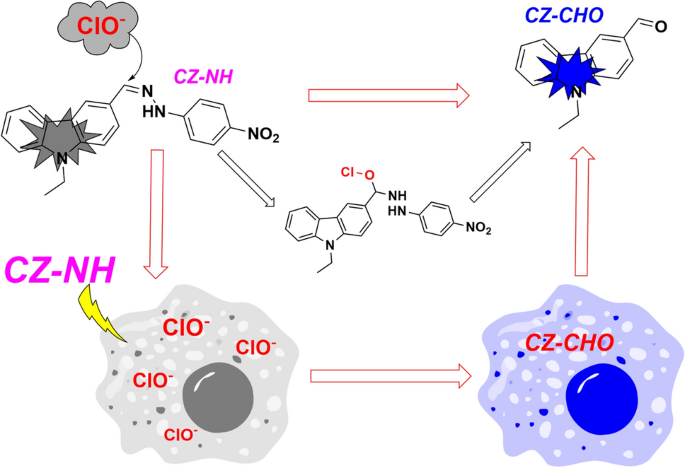 Keywords: Hypochlorous acid; Carbazole; Fluorescence imaging
Full paper is available at www.springerlink.com.
DOI: 10.1007/s11696-022-02618-x
Chemical Papers 77 (4) 2317–2325 (2023)