ISSN print edition: 0366-6352
ISSN electronic edition: 1336-9075
Registr. No.: MK SR 9/7

Published monthly
Enhanced developing property of latent fingerprint based on inclusion complex of β-cyclodextrin with natural berberine extracted from Coptis chinensis
Hongjuan Zhou, Wenzhao Shi, Jinshu Liu, Guoxin Su, Shanshan Cui, Manyan Zhang, and Susong Li
School of Textile Science and Engineering, Xi'an Polytechnic University, Xi'an, China
E-mail: shiwenzhao@xpu.edu.cn
Received: 4 January 2022 Accepted: 7 April 2022
Abstract:
Inclusion complex of natural berberines extracted from Coptis chinensis and β-CD were synthesized and utilized to developing the latent fingerprint. Natural berberines were extracted by ethanol immersion extraction method and the total amount of natural berberine was evaluated. The inclusion complex of natural berberine and β-CD were synthesized by saturated solution method and analyzed by ultraviolet–visible spectrum, fluorescence spectroscopy, FTIR, SEM, TGA and particle size analyzer. The obtained results showed that a stoichiometry of 1:1 inclusion complex was formed and the fluorescence intensities of the natural berberines were enhanced by incorporating into β-CD. Powder of β-CD, berberine, berberine/β-CD physical mixtures, berberine/β-CD inclusion complex were applied in developing latent fingerprint on the surface of different materials. Compared with other three powders, berberine/β-CD inclusion complex powder adsorbed uniformly and visibly with the latent fingerprint on the glass film showed obvious fluorescent under UV light, which enhanced the contrast between the latent fingerprint and the object surface significantly. The clear and intact fingerprint pattern could be obtained under 365 nm UV light after developing, and the local feature such as core, bifurcation, bridge, ending ridge, scar and other details were obvious. The developing effect of inclusion complex on mixed latent fingerprint and aging fingerprint were also investigated.
Graphical Abstract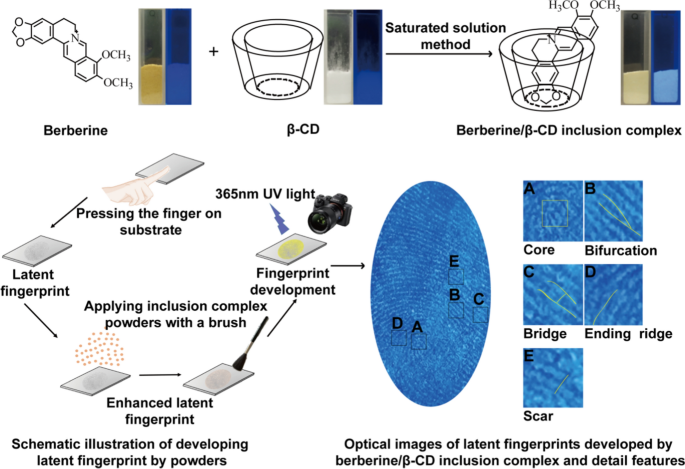 Keywords: Berberine; β-CD; Inclusion complex; Latent fingerprints; Fluorescence development
Full paper is available at www.springerlink.com.
DOI: 10.1007/s11696-022-02216-x
Chemical Papers 76 (8) 4893–4905 (2022)