ISSN print edition: 0366-6352
ISSN electronic edition: 1336-9075
Registr. No.: MK SR 9/7

Published monthly
Research progress of acetylcholinesterase bioelectrochemical sensor based on carbon nanotube composite material in the detection of organophosphorus pesticides
Hang Li, ChengGang Wu, Xi Wang, Ke Wang, YuanZheng Zhu, and Shuping Zhang
College of Science, University of Shanghai for Science and Technology, Shanghai, China
E-mail: zhang_lucy9999@vip.126.com
Received: 29 August 2021 Accepted: 9 January 2022
Abstract:
The extensive use of organophosphorus pesticides (OPs) causes serious environmental pollution and poses a serious health risk to food and drinking water. Electrochemical biosensors using acetylcholinesterase (AChE) as a recognition element can detect OPs quickly, efficiently, and accurately. The use of carbon nanotubes (CNTs) composites can improve the effectiveness of AChE electrochemical biosensors for OPs detection. This review outlines the use of composites consisting of CNTs in combination with organic matter, metal nanoparticles, metal oxide nanoparticles, and ionic liquids in AChE electrochemical biosensors. The advantages and disadvantages, as well as issues for future commercial applications, of CNTs composites in AChE electrochemical biosensors are summarized.
Graphical abstract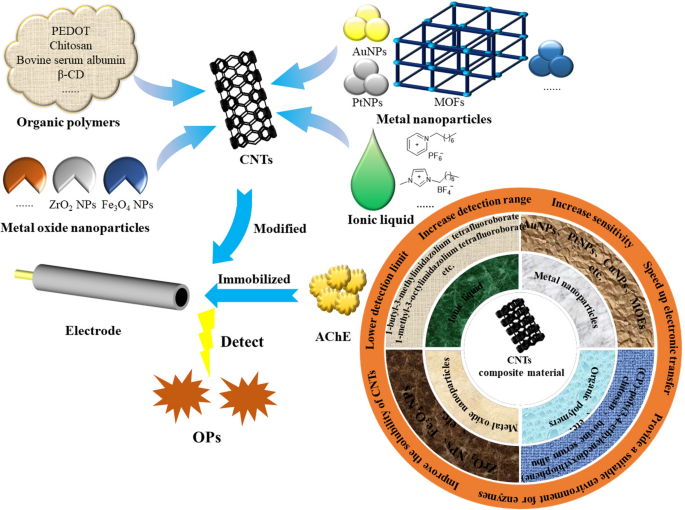 Keywords: Bioelectrochemical sensors; Carbon nanotubes; Composite materials; Organophosphorus pesticides; Acetylcholinesterase
Full paper is available at www.springerlink.com.
DOI: 10.1007/s11696-022-02073-8
Chemical Papers 76 (6) 3285–3302 (2022)