ISSN print edition: 0366-6352
ISSN electronic edition: 1336-9075
Registr. No.: MK SR 9/7

Published monthly
Multigram-scale synthesis of GSK 2,256,294, an inhibitor of soluble epoxide hydrolase in clinical evaluation
Meibo Duan, Siyu Fu, Yu Han, Ye Tian, Jia Jiang, Yongpeng Xing, Yunlei Hou, and Yanfang Zhao
School of Pharmaceutical Engineering, Shenyang Pharmaceutical University, Shenyang, People's Republic of China
E-mail: duanmeibostu@sina.com
Received: 27 October 2021 Accepted: 19 November 2021
Abstract:
This paper described the development of an improved, practical and efficient protocol method for the multigram-scale synthesis of GSK 2,256,294, an orally bioavailable potent and selective inhibitor of sEH. The key to this optimization was the design and development of a novel synthetic strategy, which involved the preparation of 4-(aminomethyl)-3-(trifluoromethyl)benzonitrile (3) and 4-chloro-N,6-dimethyl-1,3,5-triazin-2-amine (6). The developed process provided an overall yield of 26.8%, which enabled us to rapidly synthesize large quantities of GSK 2,256,294 in 99% purity.
Graphical abstract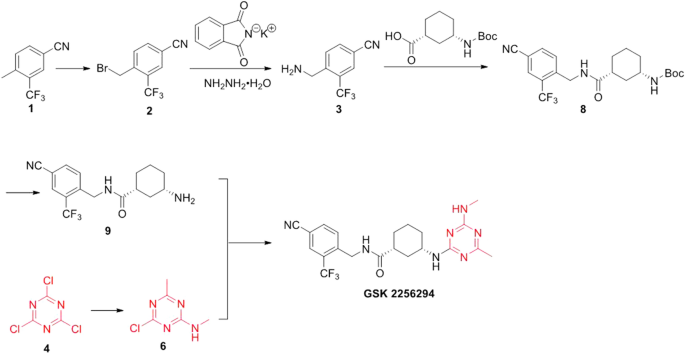 Keywords: Multigram-scale synthesis; sEH inhibitor; Gabriel reaction; 'one-pot' procedure
Full paper is available at www.springerlink.com.
DOI: 10.1007/s11696-021-01993-1
Chemical Papers 76 (5) 2883–2891 (2022)