ISSN print edition: 0366-6352
ISSN electronic edition: 1336-9075
Registr. No.: MK SR 9/7

Published monthly
Effect of ultrasound-microwave irradiation hybrid technique on extraction, physicochemical, antioxidative, and structural properties of stearic acid-rich Allanblackia parviflora seed oil
Janet Quaisie, Haile Ma, Moses Kwaku Golly, Jamila Akter Tuly, Newton Kwaku Amaglo, and Zhu Jiaqi
School of Food and Biological Engineering, Jiangsu University, Zhenjiang, People's Republic of China
E-mail: 5103180302@stmail.ujs.edu.cn
Received: 20 August 2020 Accepted: 18 February 2021
Abstract:
Stearic acid-rich A. parviflora oil production has remained conventional over the past years despite its socioeconomic importance. Ultrasonication (ULT), microwave irradiation (MIC), and ultrasound-microwave (hybrid technique, ULT-MIC)-assisted extraction parameters were optimized. Their effects on the physicochemical, antioxidative, and structural properties of A. parviflora oil were evaluated. ULT ensured higher oil yield and extraction efficiency of 64.15% and 92.16%, respectively, with a 33.33% reduction in extraction time over the conventional method. Oil extraction yield with MIC and ULT-MIC were solvent dielectric constant, ε (polarity) dependent. ULT, MIC, and ULT-MIC enhanced the freshness and stability of A. parviflora oil by reducing its acid and peroxide values significantly. MIC produced oil with high total phenol content (226.60 mg Gallic acid equivalents (GAE)/kg). Ultrasonic action had the highest impact on the seed meal structure. A high yield of edible oil that possesses strong antioxidant activity could be obtained by adopting the ULT-MIC hybrid extraction technique with a polar solvent.
Graphic abstract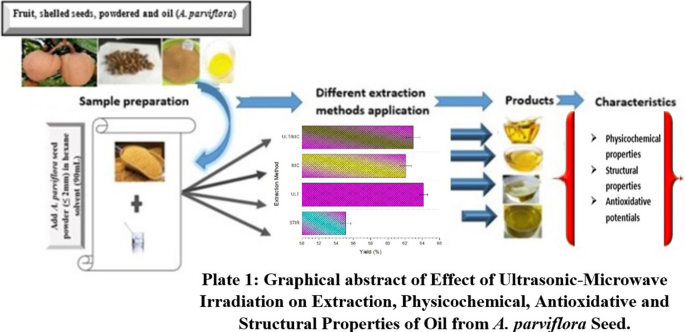 Keywords: Allanblackia parviflora oil; Ultrasound-microwave-assisted extraction; A hybrid novel technique; Physicochemical; Antioxidative properties
Full paper is available at www.springerlink.com.
DOI: 10.1007/s11696-021-01666-z
Chemical Papers 75 (9) 4527–4541 (2021)