ISSN print edition: 0366-6352
ISSN electronic edition: 1336-9075
Registr. No.: MK SR 9/7

Published monthly
Consecutive Betti/Bargellini multicomponent reactions: an efficient strategy for the synthesis of naphtho[1,2-f][1,4]oxazepine scaffolds
Hassan Farhid, Mohammad Taghi Nazeri, Mohammad Mahdi Rostami, Ahmad Shaabani, and Behrouz Notash
Faculty of Chemistry, Shahid Beheshti University, G.C., Tehran, Iran
E-mail: a-shaabani@sbu.ac.ir
Received: 31 July 2021 Accepted: 5 October 2021
Abstract:
An efficient and convenient approach has been developed for the synthesis of naphtho[1,2-f][1,4]oxazepine structures based on the consecutive Betti/Bargellini multicomponent reactions. Aminobenzylnaphthols were prepared from 2-naphthol, aromatic aldehydes, and 2-aminopyridine via the Betti reaction, and then, naphtho[1,2-f][1,4]oxazepine derivatives were synthesized using the Betti reaction products, chloroform, and aliphatic ketones in the presence of sodium hydroxide via Bargellini multicomponent reactions. A significant aspect of this work is the construction of novel oxazepine-based scaffolds with potential pharmaceutical interest from cheap and readily available starting materials in moderate yields.
Graphic abstract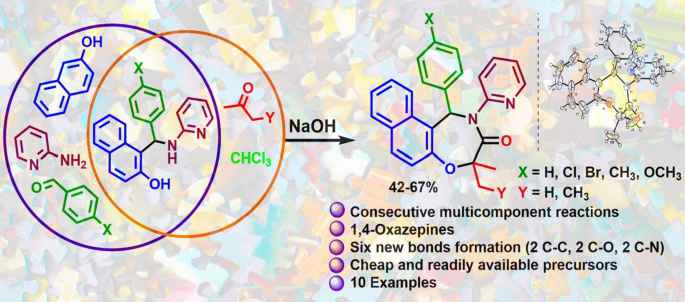 Keywords: Oxazepines; Betti reaction; Bargellini reaction; Consecutive multicomponent reaction
Full paper is available at www.springerlink.com.
DOI: 10.1007/s11696-021-01924-0
Chemical Papers 76 (2) 987–993 (2022)